Getting Your Mind in the Gutter
You may not realize it, but gutters are a crucial part of your home's roofing system. When rain, snow or hail hit your roof, it has to go somewhere, right? The gutters on your home ensure that the elements that hit your roof don't do major damage, both structural and cosmetic to your home. Luckily Pierce Roofing offers many gutter options, like installations, repairs & replacements, to ensure your roof performs the way it should. Our Promise
We make sure that no detail is left unfinished. Whether installing shingles, metal roofing or tile, when we leave your home, it's going to look even better than it did before we arrived.

Why Gutters Matter
Many people think that gutters are simply a cosmetic feature that sort of "trims up" the edge of your roof. However, your home's gutter system actually provide a great deal of protection. If water runs directly off of your roof, it won't take long before your home starts showing it. The paint or stain on the exterior of your home will start peeling or chipping off if you don't have a good gutter system to protect it. Additionally, it won't take long for you to notice staining and rusting depending on the type of material your home is made of. In some cases, your siding may actually begin to rot if the water running off of your roof doesn't drain properly.
The dangers of water flowing directly off of your roof isn't limited to cosmetic issues, though. If you have a basement or a crawlspace under your Colorado Springs home, those areas may flood if you don't have gutters installed that can carry the water away from those areas. Since basements and crawlspaces are naturally damp and dark, they provide the perfect opportunity for mold to grow. If water consistently runs into these areas, the chance for bacterial growth significantly increases. In some extreme cases, foundations that have been exposed to lots of runoff have actually rotted, compromising the structural integrity of the home. Gutters ensure that water isn't pouring into your basement or crawlspace while also ensuring that your home's foundation doesn't experience rot.
Gutters help protect your home from:
Home/basement flooding
Cracked/damaged foundations
Mold – can flourish in crawlspaces and basements if gutters are clogged
Erosion – when water is not correctly diverted away from your home the topsoil will erode, leaving your foundation vulnerable
Staining to the exterior of your home
Paint damage
Rotting/Rusting of exterior
Different Gutter Options
You've probably seen gutters on homes that are poorly pieced together and could be considered an eyesore. The gutter experts at Pierce Roofing install high-quality gutters that are not only practical but also aesthetically pleasing. We offer seamless gutters in a variety of colors which means you can pick a color that complements your home. Also, the absence of seams means there are fewer opportunities for leaks. If you are looking for something that stands out, you may want to look into our half-round gutter systems. For homeowners who prefer a more "industrial" look, our 7" box gutter system is a hit. If you really want something different, we offer rain chain downspouts that are both practical and unique in appearance, providing a solid water removal system for your home.
Whatever style you want for the outside of your home, Pierce Roofing has the gutters that you're looking for. Not only can we match the style and color to what you're looking for, we guarantee our work which provides the peace of mind you need.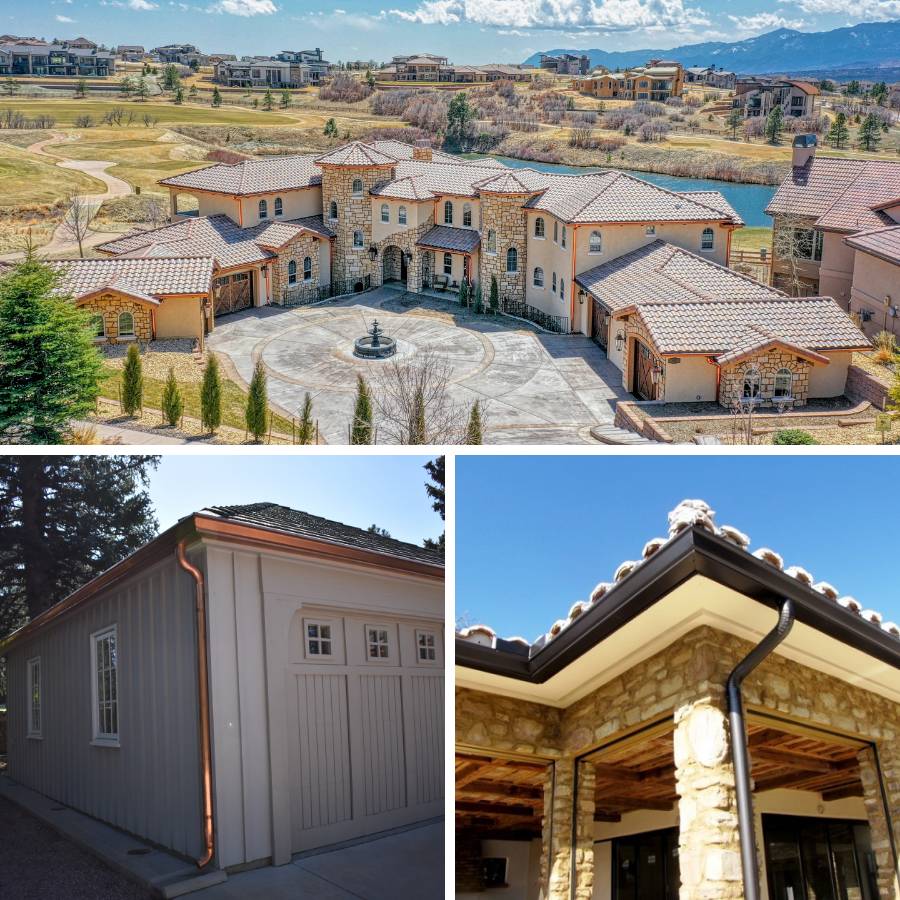 Trusted Materials & Businesses We Work With