Quality Custom Metal Work in Colorado Springs
When installing a metal roof on your home you are choosing one of the most reliable and aesthetically pleasing materials to cover your roof with. Along with the increased protection is the increased importance of having an experienced installer. Metal is very unforgiving, so nailing the details the first time around is critical. That's where Pierce Roofing excels. Our professional metal installers are backed by our in-house metal fabrication shop where we can create virtually anything your home could need. Whether a difficult detail requires a special piece of flashing, or you would like a custom accent piece to finish your roof off, we can make it. We are also able to fabricate specialty gutters, chimney caps and shrouds, collection boxes, coping metal, and much more. At Pierce Roofing, we're skilled with all types of metal roofing and custom metal work services. Whether you bought a home with a metal roof that requires a repair or you're interested in replacing your homes' existing roof with metal roofing, we're the right choice. Our Promise
We make sure that no detail is left unfinished. Whether installing shingles, metal roofing or tile, when we leave your home, it's going to look even better than it did before we arrived.

New Metal Roofing Installations
We have a custom metal fabrication shop, and we're able to make specialty pieces of metal for your metal roofing installation. When you choose us for a metal roof installation, we can create custom metal roofing products to coordinate with it. We're able to fabricate specialty gutters, chimney caps and shrouds, collection boxes, coping metal, roof flashing and much more.
If you want a special feature on your roof, such as a turret or eyebrow dormers, our custom metal pieces will set your home apart. We also offer metal portico, bay and porch roofs to coordinate with the architectural style of your home.
Metal Roof Repairs
Metal is one of the most durable materials, but is still susceptible to damage due to severe weather. An impact from a tree or another object could also damage the metal roofing panels. Sometimes very old systems have exposed steel with faded paint that can cause rust and corrosion.
Our metal roof repairs ensure the integrity of your home's roofing system. We offer a prompt response to roof leaks and other metal roofing problems. If a specialty piece is required to repair your metal roof, we'll make it in our fabrication shop. Because we make it ourselves, we know that it will have the right fit, color, thickness and style to be a perfect match for the rest of your metal roofing system.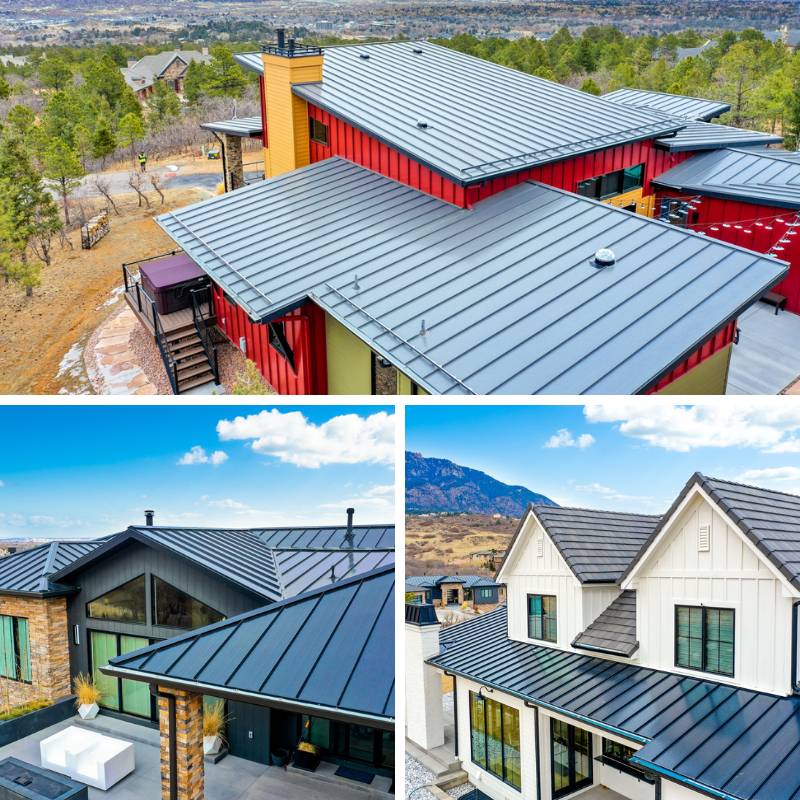 Trusted Materials & Businesses We Work With