Regardless of where you live, metal roofs are a great option. Especially in Colorado, our roofs  can take a beating from weather like strong winds, damaging hail, heavy snow, and rain. A metal roof not only looks clean and modern on your home or commercial building, but metal roofs are sturdy, durable, and reliable. Continue reading in our blog about why metal roofs are  popular for residential and commercial buildings and other facts to know about this option.
1. Metal Roofs are Long-Lasting
The great thing about metal roofs is that they will last a long time. Generally speaking, metal roofs have a lifespan of 30 to 40 years. As a result, you can count on metal roofs lasting more than twice as long as other roofs.
2. Metal Roofs are Extremely Durable 
Metal roofs are extremely durable, which is why they can last for several decades. Whether it's hailing, snowing, raining, or storming, metal roofs can withstand virtually any weather. Metal roofs can also withstand fire and strong winds. In addition, unlike other types of roofs, metal roofs aren't susceptible to mold or mildew damage. Lastly, these roofs are unlikely to corrode. The durability of metal roofs will definitely give you peace of mind.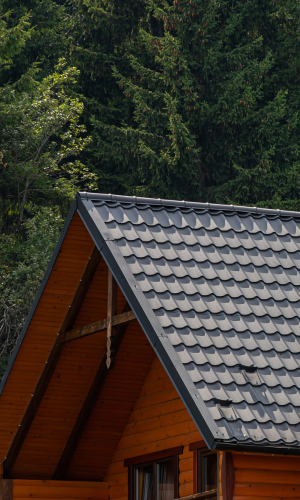 3. Sustainable Qualities of Metal Roofing
Did you know that metal roofs are sustainable? If you live a sustainable lifestyle, you would greatly appreciate metal roofs. When you choose this type of roof, you'll ultimately be reducing your carbon footprint because it will go to metal recycling facilities when replaced.
4. Hail Resistance 
Metal roofs are one of the most hail resistant roofing materials. When hit by hail the metal will never be compromised or leak. Hail will only cause slight cosmetic dimpling of the metal. This is especially important for Colorado homeowners that encounter hail often.
5. Several Styles of Metal Roofs
Contrary to popular belief, metal roofs are offered in several different styles, such as standing seam metal roofs. These types of roofs are also available in a wide variety of stunning colors. This means that you aren't limited to the traditional metal roofs. Regardless of your home's style, you will be able to find the perfect metal roof.
6. Metal Roofs are Low-Maintenance
If you're searching for a low-maintenance roof, metal roofs are always a great option. Since these types of roofs are extremely durable, they rarely need roof repairs. Just keep in mind that metal roofs may need to be resealed every couple of decades to stay in top notch condition.
You also won't have to worry about keeping these roofs clean because they aren't likely to have algae or mold on them. Not to mention, you don't have to constantly replace shingles.
7. Metal Roofs are Lightweight
Standing seam metal roofs and other types of metal roofs are usually made with lightweight materials. They are actually one of the lightest roofs on the market. With that being said, metal roofs do not need any additional reinforcement to keep them in place.
8. Resale Value of Homes with Metal Roofs
If you ever decide to sell your home in the future, you should know that metal roofs have great resale value. Most people know that metal roofs will last a long time, so many of them are searching for a home with a metal roof. Even if the house costs a little more than other houses in the area, most people will make the investment.
9. Costs of Metal Roofs
Over the long run, metal roofs are typically the most cost effective roofs. These types of roofs are extremely cost effective because they can last for up to 40 years. If you choose a metal roof for your home, you probably won't have to install another roof.
If you have a metal roof, you may be eligible for discounted rates from insurance companies. Be sure to ask your insurance company if they offer reduced rates for homes with these types of roofs.
10. High Demand of Metal Roofs
Metal roofs are in high demand. As a matter of fact, they are the second most popular roofs in this country. Metal roofs are stylish, extremely durable, and cost efficient, making them the preferred roofs by thousands and thousands of homeowners.
Due to the many benefits of metal roofs, it's not hard to see why many people choose these types of roofs. In the future, many experts predict that metal roofs will continue gaining in popularity.
Choose Pierce Roofing For Your Metal Roof
Our team at Pierce Roofing is the premier choice for metal roofs in the Colorado Springs area. We have several decades of roofing experience, so you can count on us to install your roof right the first time.
If you would like to experience top notch metal roof contractors, don't hesitate to give us a call today. We specialize in residential and commercial roofing, and we will be happy to help you with your standing seam metal roof. We pride ourselves on professional service, honest estimates, outstanding workmanship, and much more. You will not regret doing business with our excellent company.
We have several extremely satisfied customers in the Colorado Springs area. We know that you will be too if you give us a try. We look forward to working with you very soon. Thank you for choosing Pierce Roofing for your residential and commercial roofing.