Getting an exterior deck is a great way to enjoy the outdoors in this part of Colorado. Having an outside deck gives you space to host BBQs or you enjoy your morning coffee while sitting outside. Under decking is a type of composite material that you can install on a deck. If you do not get it installed, you can add it as a retrofit later.
What Is Underdecking?
Under decking is a composite material type used on the underside of decks. It functions as a barrier to moisture, wind, and the sun. When it starts to rain outside, it funnels water away from the deck's attachment point on the house. As a result, this installation protects your foundation and prevents erosion. If under-decking is installed properly, it can prolong the lifespan of a deck. Usually, pooling water could damage the wood joists, concrete pads, and support beams. Furthermore, it can keep wood-destroying insects at bay and preserve the deck's integrity.
Types of Under Decking
Most of the time, under-decking is made of aluminum or composite material. Nevertheless, some other options include vinyl, wood, and assorted materials. As long as it is waterproof and fade-proof, it should get the job done well. If your deck is elevated, this system should shunt water away from a home's windows and foundation. When a patio is beneath the elevated deck, the gutters should keep water off it.
Benefits of Under Decking
There are several benefits of under-decking if you have an outdoor patio or deck. Since the space underneath the deck can be less appealing, it is important to tackle that area. If you get an underlayment system, it can transform that space into a usable area. Here are a few reasons it is worth getting an under-decking system.
1. Reduced Water Damage
When you install a wooden deck, treating it for water is crucial. Otherwise, the wood slats will be worn down by the elements at a rapid pace. Fortunately, an under-decking system forms a waterproof barrier and protects your investment. In addition to covering the wood, this system also includes gutters and drainage. These components should function seamlessly with the deck, shunting water away from home. As a result, this system can lengthen the deck's service life and prevent rotting. Furthermore, since it pushes water away from the house, it can protect your foundation.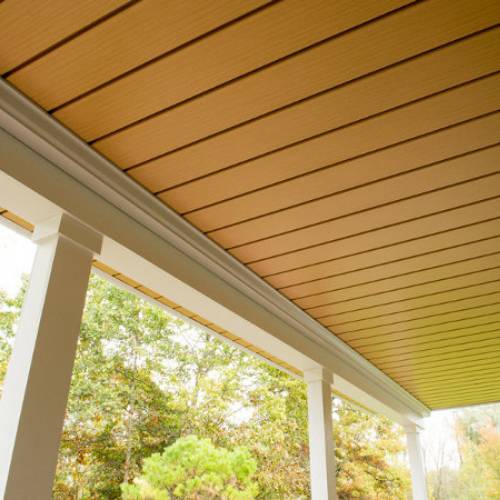 2. Appearance Enhancements
An underdeck system is ideal if you do not enjoy the way it looks underneath your deck. With one of them installed, your home's outdoor space will be much more pleasing to the eye. Ask a contractor about matching the panel's color with your home. Then, the underside of your deck will complement the exterior of your home. This enhanced appearance will last a long time, so it is a great place to invest some money.
3. Create a New Sitting Area
You can create an instant sitting area by installing under-decking on your property. The environment will become more comfortable as soon as it is installed. Since this covering shields the patio beneath the elements, it creates a nice spot to sit and enjoy the air. Add some seating to the underside to further amplify this effect, and it will not get wet down there, either. You can invite over some friends and play a game of cards in the shade. Or, you can simply let yourself melt into the chairs and enjoy the cool breeze.
4. Safer and More Hospitable Patio
If you do not have an under-decking system, looking beneath the patio is unappealing. You can spot exposed beams, corner crevices, and bird nests. Moreover, there is a ton of space for insects to inhabit, and they may start to make nests and burrows. With an under-decking system, you eliminate all those pesky spots. By installing an under-decking system, you make the underside of the patio usable. Even if you never wanted to hang out under the patio before, you will after getting under-decking. It will be clean enough to eat beneath the deck, using it as a source of shade.
5. Increase Your Property Value
Everything you do to a home that increases its value will repay you in the end. Once you turn around to sell the property, you will recoup any investment that you made in it. Since an under- decking system makes the deck more attractive, it also pushes up the value of your home. When buyers inspect it in the future, they will see the space is more appealing and be willing to pay more for it. Additionally, it creates an additional sitting space, and homebuyers love to see that.
After you install an under-decking system, you can have a lot of fun decorating the space it creates. Instead of a boring slab of concrete, you can manifest a beautiful outdoor lounge. You can also accessorize and illuminate the space with chandeliers and sounds systems. If you want to add some low-voltage LED lights, they are a great choice. They emit a warm, yellow
6. Lighting
light and produce 90 percent less heat. Therefore, fewer bugs are attracted to them, and you can still see. At the end of the day, an under-decking system will elevate your deck experience. For underdecking service in Colorado Springs, schedule your estimate with us today!